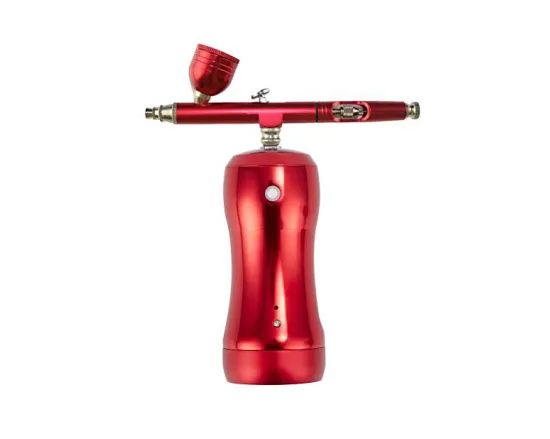 Cordless Handheld Airbrush Compressor & 0.3MM Airbrush With 3 Removable Cups for Nail Art, Makeup, Model Painting
1.Airbrush kit is equipped with a removable 5ML metal fluid cup, you can also replace it with the 20ML or 40ML capacity liquid cup included in the package.
2.The integrated structure can be used directly even without an air hose.The connectors with M7*0.5 and G1/8 at both ends make the airbrush switch freely between single action and double action.
Description:
Specifications of Airbrush:
Color: Red
Feed Type:Gravity
Nozzle Diameter: 0.3mm
Fluid Cup Capacity:5ml&20ml&40ml
Hose Connector: 1/8"BSP with removable cover
Cup disassembly, easy toclean.
Light in weight, easy to operate.
Removable back handle cover for adjusting the thin spraying line.
Specifications of Compressor:
Input power: 110-220V/50/60HZ
Output power:8.4V
Weight:260g
Dimensions: Diameter:45mm height 100mm
Polymer lithium battery: 700AMH
Charging time:1 hour
Continuously working time: 0.5 hour
Maximum pressure: 17.4 PSI
Air flow:7-7.5L/min
Work pressure(Internal pressure of the working airbrush):8-9psi.
Package Includes:
1 x Cordless Air Compressor
1 x Airbrush
1 x 5ml Capacity Cup
1 x 20ml Capacity Cup
1 x 40ml Capacity Cup
1 x Power Cord
1 x Instruction Manual
1 x Connectors with M7*0.5 and G1/8 at both ends