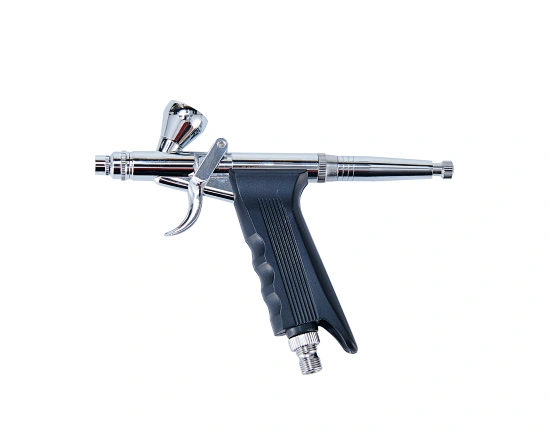 Single Action Trigger Airbrush Kit Spray Tool with 0.3mm Needles,5CC Paint Cup for cake printing, nail art,tattoos,fine painting, cake printing, nail art,hobbies, crafts,and cake decorating
Single Action Trigger Airbrush Kit Spray Tool with 0.3mm Needles,5CC Paint Cup for cake printing, nail art,tattoos,fine painting, cake printing, nail art,hobbies, crafts,and cake decorating
Features:
1.Airbrush made of high quality copper material and comes with stainless steel needles. Exquisite workmanship, easy to operate.
2.Airbrush is a two-stage control gas-liquid. Press the trigger, the front 1.5mm stroke sprays gas.
The back 2.7mm stroke sprays liquid.
3.Airbrush sprays an entire range of stipple effects from very fine to coarse textures. Meets any of your needs.
4.Great for temporary tattoos,fine painting, cake printing, nail art,hobbies, crafts,and cake decorating etc.
5.Note: Please test the airbrush tool with clean water before use, make sure the atomization is normal before using with paints. After use, please clean the air brush to avoid clogging. If the airbrush cannot spray water or liquid foundation, you could disassemble the tail of the airbrush and tighten the nut on the back.
Specification:
1. Nozzle Diameter: 0.3mm
{Use special needle and nozzle}
2. Fluid Cup Capacity:
5
cc
3.Operating Pressure:15-40 PSI
4.Switch Mode:Single Action Control
Trigger Airbrush
5.Paint Distance:50~100mm
6. Length of Spray Pen:
 5.9"/ 15 cm
Package Includes:
1 x
5
cc Cup
Airbrush