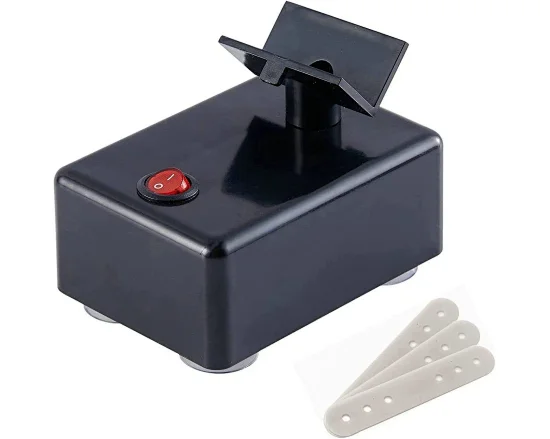 Paints Nail Lacquer Shaker Silver Adjustable Shaking Machine Evenly Tools for Nail Art, Tattoo Ink
1.Made of high-quality ABS plastic & metal material, safe and durable.With four anti slip bases make sure the stable operation.Internal parts are made of nylon, which ensures sufficient power while reducing noise to the greatest extent.
2.3200 shakes per minute promises the box and spec detail. Offering zero-fatigue, hands-free shaking.
3.Adjustable and detachable rubbery straps,adjust according to the bottle's size.It can shake the bottle to the sides,left and right ,and shake every shape and type of bottles.
4.Fix the paint on the shaker and then adjustable straps to stablize the bottles when the shaker vibrates. Plug the machine,press the button and start to work. The shaker consistently delivers smooth, bubble-free applications.
5.Designed for shaking paint,gel,polish,nail lacquer,tattoo ink,ideal for nail technician,nail polish collector,can be used at home,salon.
Description:
Color: silver
Material: High Quality ABS, Plastic & Metal,Nylon
Input :AC100-240V,50/60Hz
Output :3V,30mA
Rotationl Speed:3200r/min
Size: 9*6*6cm
Weight: 250g
HOW TO USE
1.Set the shaker to be uniform, preferably on a smooth surface. (The suction cup can fix the shaker on the work surface)
2.After making sure that the paint bottle is sealed, place it on the shaker.
3.Use an adjustable strap to fix it on the shaker according to the size of the bottle.
4.Plug in the power and turn on the switch to work.
Package Includes:
1 x Paint Shaker
1 x Charger
3 x Adjustable strap