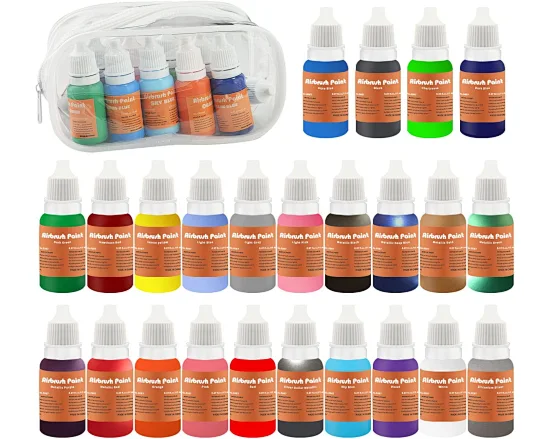 24 Colors Quick Drying Water Based Airbrush Paint,12x11ml Airbrush Paint Set of Acrylic Paint Include 8 Color Metallic Paint with 100ml Airbrush Thinner
1.24 water based colors include 16 classic opaque colors, and 8 Metallic colors Meeting most of your painting needs.
2.Every airbrush color has wonderful airbrush flow characteristics.They can pair well with your airbrush with smooth consistency and won't clog it up.
3.The acrylic paints is water base, waterProof, quick drying. With the cleaner pigment in the suit, it can be easily cleaned.
4.Designed for permanent results on most mixed-media & textile surfaces. Achieve beautiful results on paper, canvas,model, wood, fabric, leather, plastics, metals, ceramic, and so on.
5.Each item is test by inspection department to keep the goods is good working condition in your hand. Any problem we will provide the quickly reply.
PREMIUM 24 COLORS MEET ALL YOUR NEEDS
16 common colors (red,lemon yellow,Chartreuse,Light blue,black,white,violet,Light pink,light gray,Aqua blue,dark green ,Hawthorn red,Orange,Dark blue,Pink,Sky blue).
8 Metallic colors (Zirconium Silver, metallic gold, silver dollar metallic, metallic red,Metallic green,Metallic deep blue,Metallic black,Metallic purple).
NOTE:
1.Shake the paint before use
2.common colors recommend diluting with twice the amount of thinner,
3.Metallic colors recommend three times the amount of thinner.