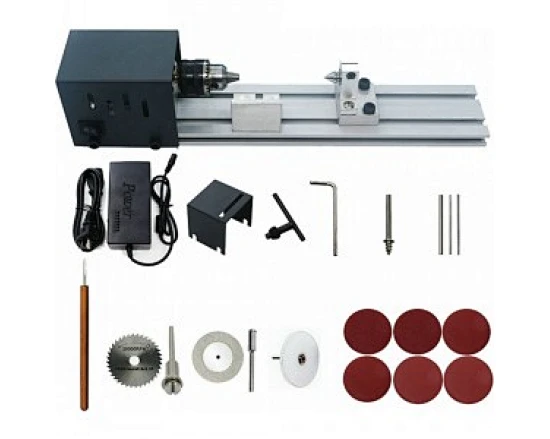 Mini DIY Woodworking Lathe Drill MWL-3309
Features:

It simulates and simplifies the working principle of large lathes, and uses a large number of high-hardness aluminum alloy materials, which are processed by CNC machine tools.
Excellent quality, very suitable for players who love DIY
Transparent organic dustproof glass cover with super convective cooling hole.
Ample accessories to meet a variety of DIY needs.
Description:

Rated voltage: 24V DC
Rated power: 80W
Rated speed: 4000-8000r / min, seven speed power supply
Chuck clamping range: 0.6-6mm
Swing diameter: 70mm
Clamping length: 180mm
Maximum blade diameter:50mm
Machine size: 350*68*85mm
Package list:
1 * Metal movable tool holder
1 * Level 7 power supply
1 * Metal saw table
1 * Drill chuck wrench
1 * Screw key
3 * Buddhist bead fixing needle(1.5/2.0/2.5mm)
1 * Thread holding needle
1 * Red sandalwood precision steel carving tool
1 * High-speed steel saw blade 50MM+connecting rod
1 * Emery saw blade 50MM+Saw blade connection rod
1 * Abrasive paper millstone
6 * Abrasive paper