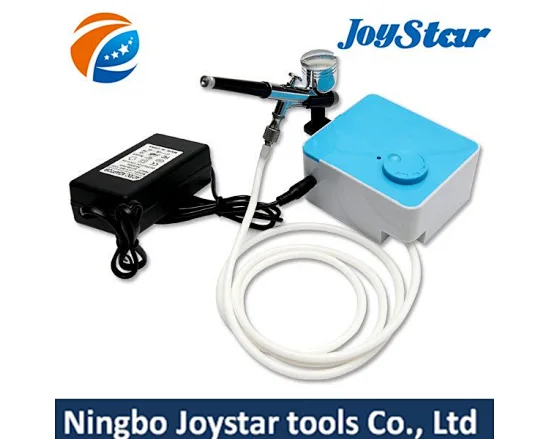 Function Dual action airbrush compressor Complete kit AC09BLK30
Feature:

1. Brand new professional Airbrush Compressor Kit at an unbeatable price.

2. This high-quality airbrushing kit is perfect for commercial arts, illustration, temporary tattoos, cake decorating, crafts, hobbies and any other airbrushing items.

3. Come with a portable Auto Start Auto Stop Function air compressor, and classic dual-action gravity feed air brush.

4. Piston type oil-free construction, with long working life.

5. Full range of working pressure adjustable, from o to max pressure.
Mini Air Compressor:

Input Power: AC100-240V, 50/60Hz, 3.0A

Air Flow: 11.5 Liters per minute.

Max pressure: 2.3bar.

Auto start at: 0.8bar(±10%)

Auto stop at: 1.2bar(±10%)

N.W.: 0.7 KG

Includes: 1.5m rubber air hose



AirBrush:

1. Nozzle Diameter: 0.3mm

2. Fluid Cup Capacity: 7cc

3. Operating Pressure: 15-30 PSI

4. Switch Mode: Dual-Action Trigger Control

5. Paint Distance: 50 ~ 100mm

6. Length of Spray Pen: 6.02 inch / 15.3 cm



Package Includes:

1x Air Brush

1x Nozzle Wrench

1x 2cc Eye Dropper

1x Air Brush Holder

1x Air Compressor

1x Air Hose

1x AC Transformer

1x Instruction for Air Brush

1x Instruction for Compressor