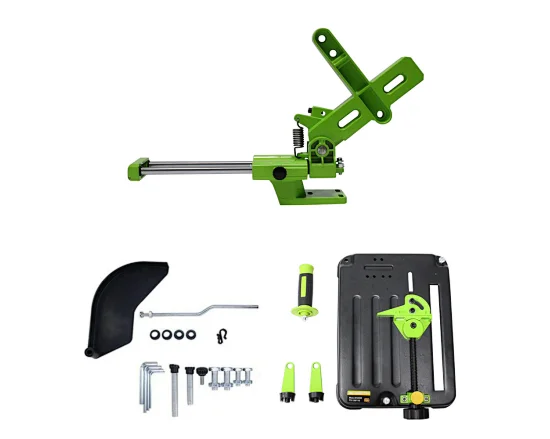 Angle Grinder Stand for 100-125 Angle Grinder AGS-612506
Feature

Multi-angle cutting–cutting angle up to 45 degrees,Cutting width up to 11cm.
Cast iron thickened base–The solid cast iron base guarantees stable operation and cutting.
Large size protective cover–Resist the flying debris to ensure safety.
Adjustable lock switch–No need to rotate, you can adjust the tightness freely by pressing the button.
Tie-bar design – easy to adjust the front and rear distance, suitable for a variety of angle grinders.
Specification:
Color: green + black

Material: Base cast iron

Maximum clamping width: 130mm

Adjustable angle: 45°
Max cutting depth: 30mm

Package Weight: 4kg

Package Size: Size: 26.5*12*38cm(10.4*4.7*14.9inch)
Applicable models: 100-125 angle grinder



Package Included:
1 x angle grinder stand

1 x safety cover