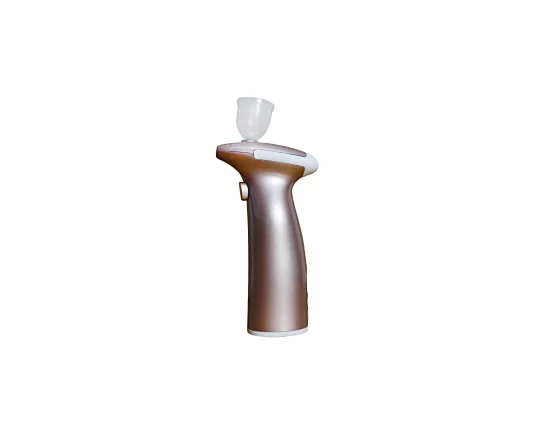 Airbrush Oxygen Spray Machine AC-211
Feature:

Airbrush spray is the most popular beauty technology today.It uses air pressure to spray makeup foundation on the face, shoulders, hands and other body parts without pulling the skin.
Under the action of high pressure, the atomized nutrient molecules penetrate the pores of the surface in a mixed state until the granular layer and the basal layer are the skin to quickly absorb nutrients.
Zero friction causes no burden to the skin, comprehensively and easily cover up scars, spots, freckles, nanolevel moistening, rapid absorption and perfect shrinkage of pores, perfect for skin daily care.
One-key switch, two-gear adjustment, present different atomization effects.The machine can work automatically, after pressing the control button hard.
Reasonable design, beautiful appearance, safe to use no other side effects.Small Size, easy to carry, especially for business or travel. Also can be used for commercial art, illustrations, temporary tattoos, crafts, etc.
Description:

Battery :3.7V,1500MAH
Charge time: 75 minutes
Use Time: 90 minutes
Input Voltage: 110V-220V
Air flow:7-10L/MIN
Pressure:20-25PSI
Working state:automatically power off every five minutes
Steps for usage:

Assemble the airbrush cup onto the airbrush ystem.
Pour the mineral water/skin care/cosmetic into the cup and then use the airbrush cup lid to cover the cups.
Press ON/OFF button to select 1st gear/2nd gear.
Press control button slightly to spray or press deeply to automatically spray.
Notice:Make sure to keep a distance of 10 to 20 centimeters from the nozzle to your face while using.

Cleaning the airbrush:

Place 8-10 drops of water or the cleaner into airbrush.The water or cleaner will loosen and dissolve leftover makeup.
With the system turned on,place your finger over the airbrush nozzle to block airflow.Gently pull back on your control button 1/4 of the way so small bubbles appeal in the makeup well.Back-bubble for 8-15 seconds depending on the level of cleaning required.Back bubbling aerates and clears the airbrush inside.
Spray out all the water.
While the needle is out of the airbrush,clean the front nozzle with a fresh cutton swab.Removal all makeup buildup around the nozzle.
Cleaning the needle:

With the control button turned off, open the side silicone cover.
Loosen the fixing bolt of the needle, do not loose it completely, and gently open it to half. Then pull the needle out, carefully pull not to bend the needle,
Use a wet tissue to clean the needle, being careful not to poke the needle to yourself
Put the needle back into the machine and be careful not to bend the needle. Gently push the back end of the needle to ensure the needle is securely seated.
Tighten the needle fixing bolts to know that the needle can be comfortably attached to the beauty instrument without excessive tightening.


Package Include:

1*airbrush makeup machine

1*USB cable

1*needle

2*airbrush cup(2cc,15ml)