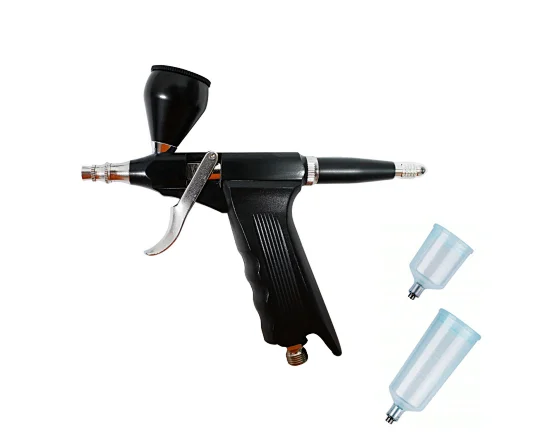 9cc/20cc/40cc Cup Pistol Trigger Control Airbrush TJ-116AB
Feature:

Precision-crafted body provides a balanced feel in the hand. Trigger Air-paint Control allows users to determine the quantity of air and fluid released.
Includes interchangeable 9cc, 20cc, 40cc cups, which allows for easy clean-up and more efficient paint flow.
Two plastic transparent replaceable cups make it easier to detect the remaining paint when spraying.
Black storage tool box for beautiful and special customized gift box.
Description:

1. Nozzle Diameter:

2. Fluid Cup Capacity: 9cc & 20cc & 40cc

3. Operating Pressure: 5-10 PSI

4. Switch Mode: Pistol Trigger Control

5. Paint Distance: 50 ~ 100mm

6. Length of Spray Pen: 5.9″ / 15 cm

7. Color: Black

Package Includes:

1 x Airbrush

1 x 9cc Cup
1 x 20cc Cup

1 x 40cc Cup

1 x Mini Wrench

1 x Plastic Dropper

1 x User Manual

1 x Storage Case