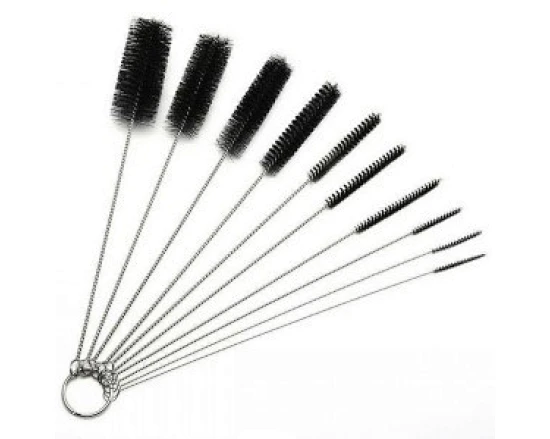 10PCS Bottle Cleaning Brushes Model AB-C10
Feature

1.Professional Quality: well-made of stainless steel and nylon bristles, which isn't easily shed .
2.More Size: package included 10 brushes ,with different diameters from 1/16 in to 1 in .it is very convenient for you to clean hard-to-reach spaces like airbrush nozzle,bottle,cups.
3.Humanized design: the bottle brush is designed with lengthened body and more bristles ,there won't be scratches when you clean whatever you want
4.Wide Applications: it is widely used for tube,narrow neck bottles, pipe cleaner ,nylon bottle ,airbrush Nozzle ,glasses straw , Kitchen so on.

This item can help with cleaning all those hard to reach areas, whether its bottles, pipes tubes, these can not only clean them with ease, but also be non-marking as well.
Specification:
- Brand: ABEST
- Color: As the picture shown.
- Material: Stainless steel, Nylon.
- Size: About 20 * 5 * 1cm.
- Brush Length: 20cm (8″)
- Brush Diameter: 1″, 4/5″, 3/4″, 2/3″, 1/2″, 1/3″, 1/4″, 1/5″, 1/6″, 1/9″, 1/12″, 1/16″
Package Contents
- 10x Bottle Tube Cleaning Brushes
Prefect for:
Bottles/Colanders/Dishes/Drinking Straws/Drip Tips/Espresso Machines/Glasses/Glass Droppers and Dropper Bottles/
Guns/Hummingbird Feeders/Jewelry/Keyboards/Paint Spray Guns/Pipes/Pressure Cookers/Sewing Machines/Cups/
Small Nozzles/Tattoo Equipment/Thermal Coffee Tops/Tubes/Vaporizers/Water Pumps/Baby products, etc.

Precautions for use:
1.After using the brush, the best practice is to keep it dry before storing it
2. they can be straightened when the brush is dipped in hot water for several minutes,If the bristles bend
3. Please be careful with the top of the brush so as not to scratch your hand