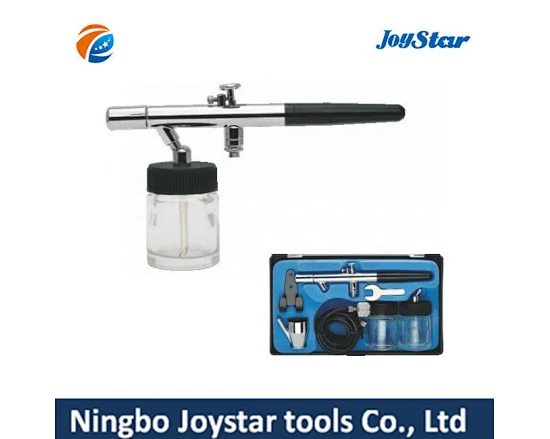 0.35mm Dual Action Airbrush for Makeup AB-128
How to spray:
Fill fluid in the cup after thinning appropriately.
Hold the airbrush lightly in your hand.
By pressing the main lever,a scream of air emerges. Then draw it backward gradually for color atomization.
The spray pattern is in accordance with the distance between a work surface and a air brush.
For fine line spray,remove the needle cover and hold the air brush near a work surface.

Maintenance:
Empty the fluid cup and wash with water or solvent by a brush
Refill cup with water or solvent,then block the needle cover with a finger and spray. The air flows backward into nozzle to clean the paints remained the air brush.
Specification:
Nozzle diameter: 0.35mm
Fluid cup capacity: 22 cc
Package included:
1 X Airbrush 1 X 1.5m PU tube
1 X Glass jar with lid
1 X Glass jar without lid
1 X Adaptor
1 X Air hose
1 X Mini spanner
1 x Metal cup
1 x Hanger
1 X User manual
Carton Dimension: 41x36x29 CM
PCS/CTN: 30
N.W./G.W.: 9.2/11.2 KG
Common Applications:
Illustration
Fine, Commercial Art
Photo Retouching
Custom Automotive
Motorcycle Graphics
T-Shirts, Textiles

Spray & Color Media:
Nail Art, Cosmetics
Temporary Tattoos
Signs, Backgrounds
Models, RC's, Trains
Hobbies, Crafts, Students
Cake Decorating