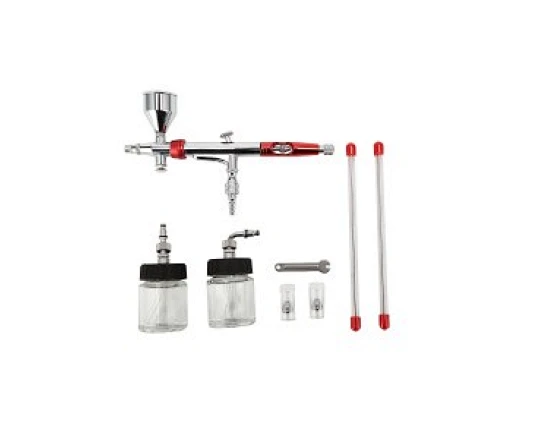 0.2/0.3/0.5mm Double Action Airbrush TJ-468K
Feature:

Multi cup capacity and feed types can absolutely meet all your needs.
The airbrush head can be rotated 360°, and it is easy to assemble with three bottles(cup), ensuring that you can spray in the most ideal way.

The airbrush comes with Kit 0.2/0.3/0.5 mm Nozzle and 0.2/0.3/0.5mm Needle . You can use the different needle to make the fine mist that you want. It sprays an entire range of stipple effects from very fine to coarse textures.
Dual action trigger controls both air and color, allowing the artist to change the width of the line and the capacity of paint.
Perfect for general-purpose art-and-craft projects, as well as model-railroad detailing, R/C car bodies, plastic kits and automotive painting.
Description:

- Feed Type:Siphon /Gravity Feed

- Nozzle/Needle Diameter: 0.2,0.3(inside of the airbrush),0.5mm

- Glass Jar Capacity:Bottom bottle: 22CC, Side bottle: 22CC

- Metal Cup Capacity: 9cc

- Working Pressure: 15-50PSI

- Package Box Dimension:16.5*21.5*6.5cm

- Package Weight:652g Package Contents:
- 1x Dual-action Airbrush kit
- 1x Manual How to spray
1. Fill fluid in the cup after thinning appropriately.
2. Hold the airbrush lightly in your hand.
3. By pressing the main lever, a stream of air emerges. Then draw it backward gradually for color atomization.
4. The spray pattern is in accordance tith the distance between a work surface and a airbrush.
5. For fine line spray, remove the needle cover and hold the air brush near a work surface